we make the audio plugins,
you make the music...
Nov 25, 2011 - SjurSound launches its effectIT brand of audio plugins providing efficient low-latency digital signal processing algorithms essential for the creative musician. Initial products includes:

clipIT - flexible clipping distortion
colorIT - guitar/bass speaker simulation
divideIT - suboctave tone generation
screamIT - vintage distortion effect
Nov 25, 2011 - SjurSound partners with share*it!, a Digital River company, to provide its e-commerce hosting solutions. Share*it! provides:
User-friendly shopping cart
Secure on-line payment transactions
Great customer service
Variety of payment methods
clipIT

Simple, yet flexible clipping distortion effect has 4 types of clipping from soft saturation to hard razor-sharp clipping.

colorIT

Guitar and bass speaker simulation provides realistic sounds without hogging your processor resources. Makes your guitar sound just right.


divideIT

Provides a clean suboctave note that can turn your guitar into a bass. With its excellent tracking you can do things that you never imagined.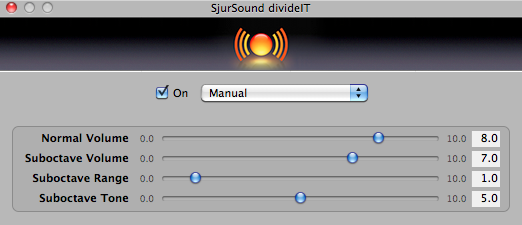 screamIT

If you like the sound of vintage distortion pedals, you will love this plugin. Just the right combination of distortion and eq gives you just the right sound.


Dec 12, 2011 - SjurSound is now on Twitter. Follow us and keep up to date with what's happening. Give us tweet:
www.twitter.com/sjursound